Upgrade your Glitching with PhotoMosh-Pro.
PhotoMosh-Pro is a real-time visual effect mixer built for unlimited creative control of images, videos and gifs.
PhotoMosh-Pro is a fully featured desktop version of PhotoMosh, including new and improved effects, high-res video exports, modulators, audio-reactive effects, batch exports, improved UI and more.
We're obsessed with creating powerful tools with simple interfaces. Our goal is to inspire you and help your work to flow.
New Effects.
Over 30 brand new effects, in addition to all the effects on photomosh.com. Stack and re-order effects for infinite combinations. Designed for maximum image and video creativity.
Luma-Mesh
3D luminance depth distortion Light grid / RuttEtra Effect. Control luminance height, 3D tilt motion, mesh opacity, bands and warp height.
Optical-Flow
Motion reactive liquid optical flow. Great for high motion input.
Data-Mosh
Motion reactive glitching simulating video p-frame dropping.
Feedback
Temporal feedback. Motion trails. Control scale, rotation, warp and hue shift.
Soft Glitch
Soft gradient chromatic aberration glitching.
Hard Glitch
Chunky hard multi-scale randomized displacement. Control amount, scale, color split and speed.
Stretch
Stretch out area of input with optional wave and jaggies.
8-Bit CGA
CGA style pixelation for that 1982 old school vibe. 3 preset color schemes.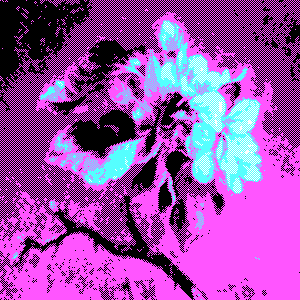 Kaleidoscope
The VJ's favorite. Make anything look cool. Control number of sides and angle.
Light Streak
Get glossy with smooth randomized light streaks. Tweak angle and strength.
VHS
Classic 80's vibes. Optional time display, static and bar smearing.
Super 8
70's slideshow effect with optional dust, burn, vignette framing and shutter roll.
Overlay
Load any image or video file to use as an overlay above other effects, using alpha transparency or blend modes. Stack multiple overlays.
Pixel Sort
Sorts pixels by brightness to give a pixel melt effect. Control amount and threshold. Realtime sorting works on images and videos.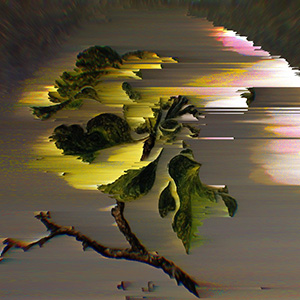 Decimate
Multi-Pass glitch giving some nice complex shapes.
Mask and Mask Blocks
Mask out individual effects either by loading a mask image or with animated mask blocks.
CRT
Old school Cathode Ray Tube monitor effect. Control pixel size, screen curvature and vignette.
Tile
Sliding mirrored tiling. Control size, speed and angle.
3D Transform
Animate 3D position, scale and rotation.
Ascii
Transforms input into an ASCII text mosaic. Control size and color.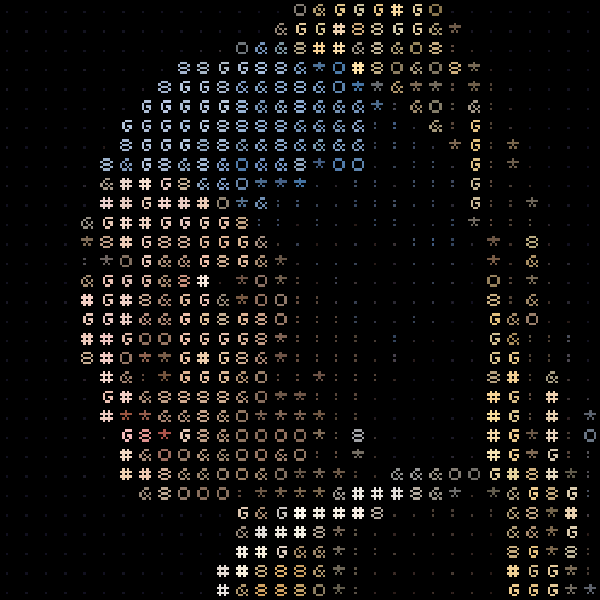 Other new effects include Strobe, Bulge, Grain, Transform, Color Correction, Push, Sharpen, Bleach and more. Existing effects have been improved with more fine grain control and better quality output.
High-Res Exports.
PhotoMosh-Pro has a powerful export engine to give full control of output media. Control output size, duration, frame rate and file type.
Output video up to 4K resolution with unlimited duration.
Video Output to MP4, WEBM or GIF. Image Output to JPG or PNG.
Transparency / Alpha Channel support for WEBM, PNG and GIF (input and output).
Handles GIF input. Supported input file types are: MP4, MOV, WEBM, GIF, PNG & JPG.
Control scene background color and opacity.
Toggle audio output.
Export at up to 60 frames per second.
Export render size limited to 4096 x 4096 pixels or smaller.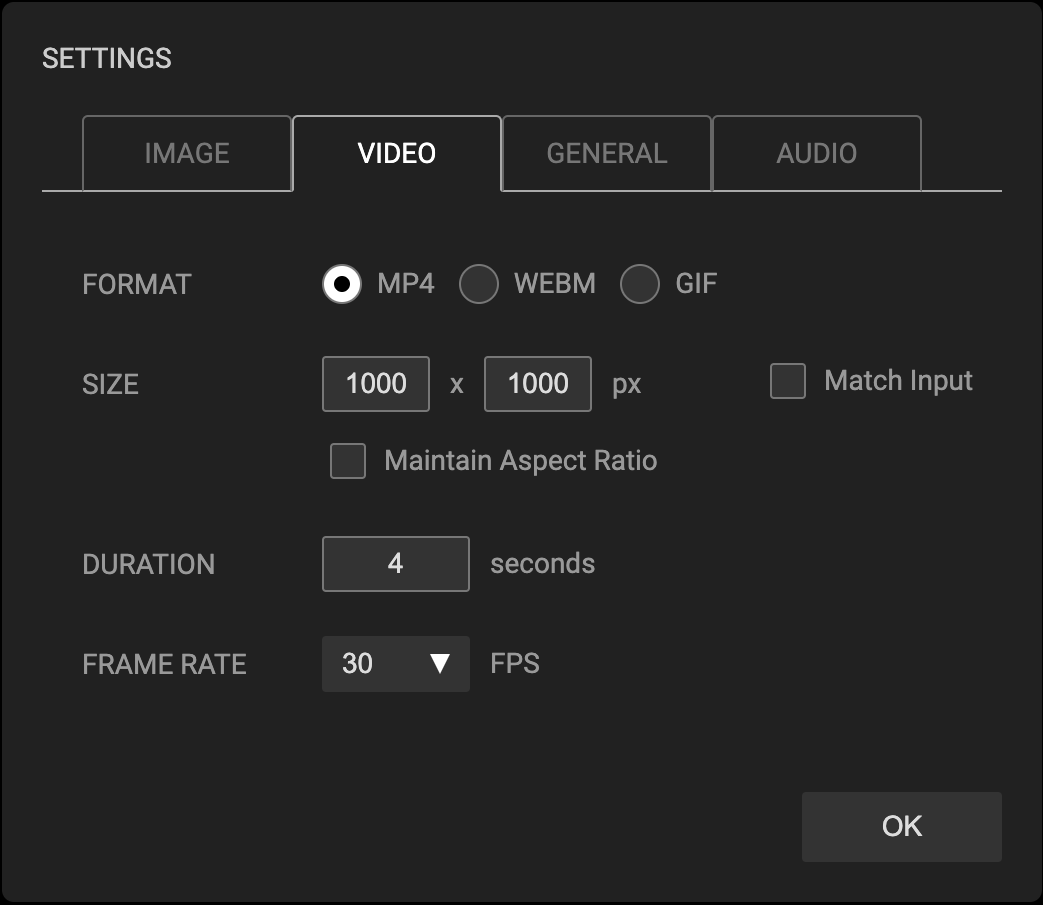 Make Perfect Loops.
PhotoMosh-Pro is designed to create perfect seamless looping videos from any input.
Effect Modulators allow you to control effect parameters over time via various methods: linear, sine wave, looping noise, and random. Control modulator speed, mininimum / maximum range and cut-off chance. Modulators give more variation to loops by varying parameters over time.
Audio Reactive Modulators allow you to use audio input volume to drive effect parameters, creating automatic audio-reactive animations. Optionally load an external MP3 file to add music and drive audio-reactivity.
Rebuilt & Improved UI.
The PhotoMosh-Pro User Interface has been rebuilt from scratch to improve performance and give increased fine grain controls over your glitching.
Standalone desktop app for Windows & Mac. No internet connection required.
Pop-Out Preview window allows an easy way to project at full screen or stream and record via OBS. Great for live fullscreen VJing!
Video Playback controls. Play, pause and seek input video.
WebCam input selection. Load external MP3s
Random 'Seed' option allows you to dial in randomized effects for Image output mode.
Transparency checkerboard to show if input media has transparent background.
Keyboard Shortcuts for more control.
Cleaner, faster, more intuitive UI.
Add, Remove and Drag Effects in the effect list. This gives the ability to create infinite effect combinations. Allows duplicate effect stacking. Drag effects to change effect order.
Presets allow saving and loading your favorite effect combinations. Update or revert presets. Save presets as simple text files to share.

Batch Export any number of files with the same effect settings. Makes it easy to Mosh hundreds of images and videos with one click.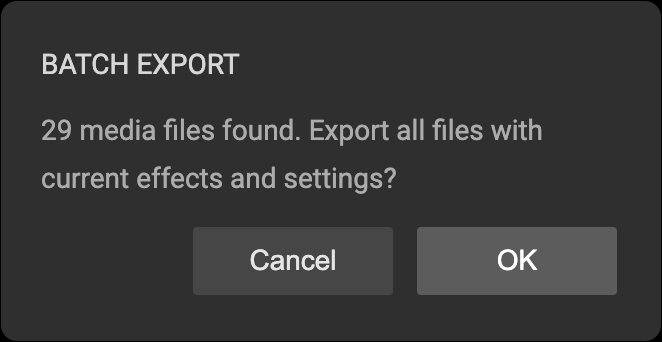 Customer Testimonials
'PhotoMosh-Pro is a fantastic tool for creating and experimenting with video effects on the fly. With an array of options for stacking and blending effects, plus high res video exports, it has quickly become an integral part of my workflow.'
'As my own personal visual effects mixer... PhotoMosh-Pro keeps expanding and the ability to stack and rearrange effects gives it an X factor of infinite visual experimentation.'
'PhotoMosh-Pro not only provides the quickest access to some of the most abstract methods of visual manipulation; it's simply the best way to push ANY visual element to the maximum via modulation or audio triggering.'
'I've been video editing since the mid 90's and PhotoMosh-Pro is by far the most frictionless, enjoyable and creative program I've ever used.'
★ ★ ★ ★ ★ - 4.9 out of 5 Stars
PhotoMosh-Pro Gumroad Customer Rating
Buy Now!
Support PhotoMosh development. Be awesome. Upgrade your Moshing!
Purchase Details
Each purchase is a single user license for up to 3 devices. Each purchase includes free upgrades within the same major version number. We sell via Gumroad so you can buy in complete confidence.
Money Back Guarantee
If for any reason PhotoMosh-Pro does not meet your requirements, email us within 30 days of purchase for a full refund.
Requirements
PhotoMosh-Pro requires Windows (7 or later, 64 bit) or macOS (10.11. or later).
Help
Visit the Help Page.
Version History
Visit the Version History.
Terms of Use
View Terms of Use.
Questions?
Credits